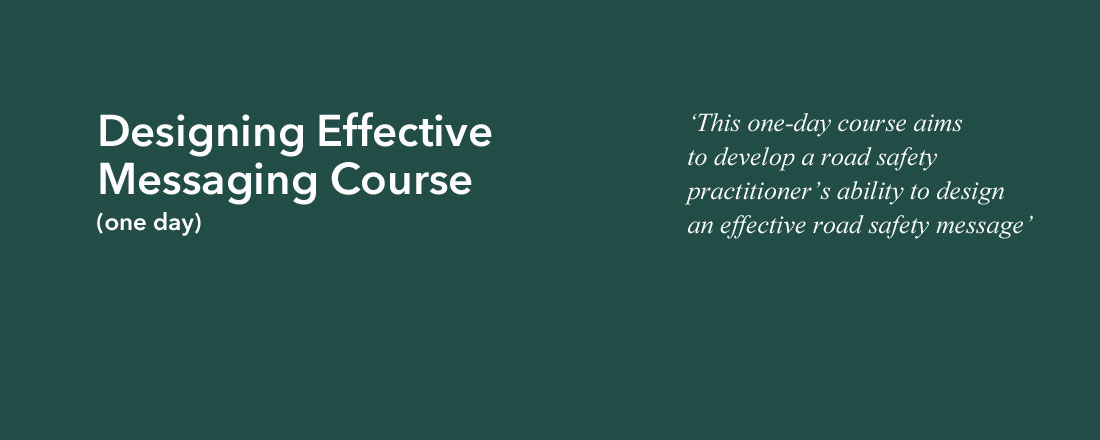 Designing Effective Messaging (online course)
Course fees
£155 for Road Safety GB Academy members (plus VAT)
£225 for non-members (plus VAT)
---
"I'm already seeing positive results on our social media accounts in terms of public response and engagement."
Amy Westby, Media Officer, Safer Roads South Yorkshire
---
Overview
This course will be delivered in a Zoom* virtual classroom and will be facilitated by Ian Edwards. It will commence at 9.30am and finish at 3.00pm with an hour for lunch. The course aims to help develop a road safety practitioner's ability to design an effective road safety message. It covers a wide spectrum of topics around effective messaging and will enhance skills and confidence in design and delivery.
---
Who should attend?
This course is suitable for anyone who wishes to gain knowledge and understanding of the principles of effective messaging and to develop their skills further, so they are able to confidently produce an effective road safety message.  The course is aimed primarily at practitioners who use messaging in all forms of media as part of their work activities.
---
Course aims and objectives
Aim
To develop the participant's ability to design an effective road safety message.
Objectives
By the end of the course the participant will be able to identify the key elements of messaging design in relation to message:
• Targeting
• Framing
• Structure
• Appeal
And apply the EAST principles to the development of a messaging campaign.
---
Assessment
Learning will be assessed by completion of an assessment task, to be returned within four weeks of course completion.
---
Date(s) and booking
9 October 2023 
Delivered via Zoom
Book this course

6 February 2024 
Delivered via Zoom
Book this course
In addition, courses can be delivered for groups on request - contact Sally Bartrum by email or on 01379 650112.
---
Invoicing, payment & cancellation
Delegate fees are due payable upon booking unless a valid Purchase Order is provided and accepted.
For online bookings paid at the time of booking, invoices/receipts will be issued electronically on completion of the booking.
Please issue Purchase Orders to 'Road Safety GB International' and forward via email to: rsgbcourseinv@gmail.com.
Invoices will be issued and sent via email and must be paid within 30 days of the invoice date or no later than one working day prior to the start of the course, whichever date occurs soonest (the"due date").
Payment must be made in pounds Sterling by cheque, credit/debit card or BACS, using the details on the invoice.
For more information please contact Sally Bartrum by email or on 01379 650112.
*About Zoom
Zoom is a leading on-line training platform which offers a wide range of interactive tools to enhance the learning experience.  One key advantage is that Zoom easily facilitates group based discussion, increasing the interaction between participants.  For this reason Road Safety GB prefers to use Zoom when possible.  While some organisations do not allow their employees to have the full version of the Zoom software installed on their computers, this does not always mean that a participant cannot access an online event via their browser,   We therefore recommend that anyone who is concerned about their ability to access an event on Zoom speaks directly to their IT provider to identify if they allow browser access.